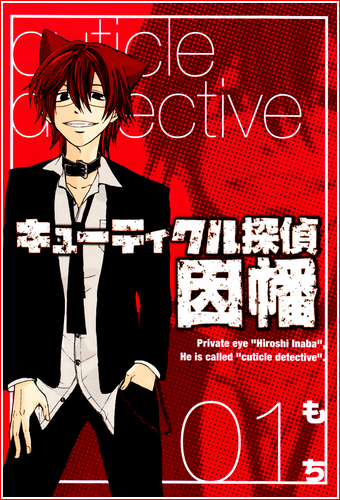 Title: Cuticle Tantei Inaba
Associated Names: キューティクル探偵因幡 / Cuticle Detective Inaba
Author/Artist: MOCHI / もち
Genres: Action, Comedy, Fantasy, Shounen, Supernatural
Year: 2008
Status: Ongoing (11 vol.)
Language: English
Scanlating Group: September Scanlations
Completely Scanlated?: No
Licensed (in English): No
The scarlet dog detective invites us to a labyrinth full of exciting cases!! Inaba Hiroshi is a red-haired detective with a hair fetish, and together with his efficient(?) young male assistants,
they fight off the attacks of an ambitious Italian mafia
(which is a goat though).
This is a gag story of a detective who thwarts off the mafia's every design
(and getting quite sick of it)!!
{summary from: Deka Scanlation Group}
♥